Over time I've seen more and more instances where people are trying to mini-mod, it seems that right now the hive not only allows it, but almost encourages it to some extent. Which I think is a massive issue, now there would be exceptions to this rule, such as someone answering a question in #help-me that isn't asking about a specific hive rule or anything like that, since there isn't a problem with that, this would also apply to the discord.
So someone might wonder what exactly the issue of having a community that extensively mini-mods/self-moderates, and there are a few
It leads to misinformation, which could cause people to end up breaking the rules in some cases
It could confuse newer users when 2 people (non-staff) say 2 different things.
It can in some cases make the community feel somewhat gated, which could discourage newer users.
Discourages some older users since less time is spent talking about hive and more time is spent criticizing
Now I'm not saying that people who mini-mod or try to help others out with the rules have bad intentions, I think some of them want to feel more powerful over others or get clout, but that's a minority, I think most people have good intentions, and a majority have a decent understanding of the rules, but this doesn't mean that all of them know the rules, and there are a fair amount of instances where someone comes to their own conclusion on something and than state it as fact.
I decided to scroll though #bedrock-help-me to find instances of confusion (and while looking found an instance where one hive staff member said something and another said something different to the same thing, so that definitely doesn't help). Here's some instances (I censored all the names out), of people saying stuff that isn't quite true, there are also A LOT of times where like 3 people respond to a simple question, and this is in #bedrock-help-me, it would take too long for me to individually look through each channel to find examples of people claiming something is against the rules when it isn't.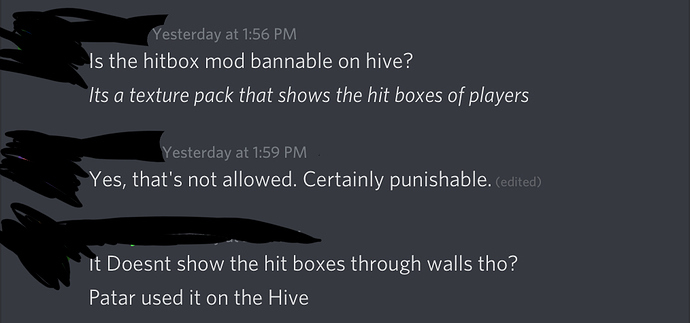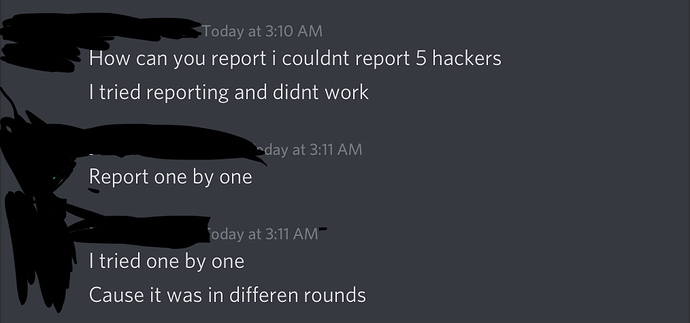 The example on the bottom is someone saying something when they don't know the actual answer, and the top one is someone saying something, however looking into the top one further revealed that it was 2 staff members saying 2 different things causing this mishap.
Also I noticed that #bedrock-help-me was just very hectic in general, it seemed people where getting overwhelmed/confused easily.
I didn't mention mini-modding on the forums since it isn't as big of an issue in my opinion, but you can definitely find examples of that. I also have done it myself, I always try to never act like staff or ever act like I know the exact answer to everything, because I simply don't. I've played the hive for almost 2 years now and still don't understand everything. I would still like this rule to be applied to the forums to keep consistency and it would still benefit it in my opinion
I also feel as if mini-modding is rewarded, maybe rewarded isn't the right word, but it definitely feels that the people who just mini-mod most of the time in the hive discord get a lot of clout, so in a way they get rewarded
My philosophy on how the hive should enforce the rules is that staff should be the people who educate people on the rules and enforce the rules. People also should be able to easily educate themselves on the rules (currently the support section on the website does fine in this regard, hive obviously can't put every scenario in there), and then have an easy way to appeal (currently the hive does have this). The community shouldn't enforce the rules, and if a situation gets bad they should get staff attention (which granted, they usually do).
So in conclusion I think mini-modding should be disallowed because it causes confusion, misinformation, makes the community feel gated in some instances, and annoys older users since more time is spent with people moderating and causing said confusion then talking about hive.
I'd like to hear what all of you think, I don't expect this to be implemented but I think it could make the community better. I'll probably get some heat for this but oh well.