So there will be three suggestions I will be making for hide and seek that will benefit us players
Give Seekers a hit cooldown
This is mainly because if you were in a corner and hiding, a seeker could just be spamming their left click and accidentally hit you, since the kb quite high, if you were to get hit once you wont be able to escape and you will easily get 3 tapped.
My idea is to add a hit cooldown, this will make the seekers have to time their hits instead if constantly spamming. I'd say a 2 or 3 second cooldown per hit would be advised.
---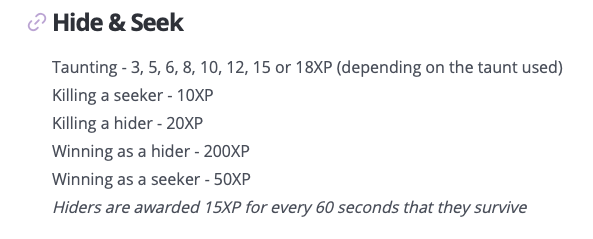 Give seekers more xp
The fact that being a seeker and winning is kinda hard doesnt make it very appealing to players if you were to get the seeker role, it takes ages and the reward isn't that huge for the effort you put in, say I get 15 kills.
15 x 20 = 300xp and if you win you'll get 50xp, I doubt anyone would get 15 kills consistently in total you get 350 xp
however if you were a seeker and got 105 xp for taunts, 75xp for the 5 min they survive and the 200 xp for winning, that'll give you 380 xp. Hiding is quite simple as you just need to find a spot and keep using taunts. I currently use a Strat that consistently gives me 105 points and 10 seconds to spare incase I mess up slightly.
compare that to a seeker, you dont win as often as a hider and if u were to get 15 kills, you'd still get less xp then a hider.
I believe the winning should be more like 80 - 90 xp and killing a hider should be 30 xp instead. If we redo the calculation…
90 xp for winning + 15 kills x 30xp =450xp for 15 kills. In total you will get 540 xp.
---
Use custom items to show type of blocks hiders are hiding as
currently, after a few minutes as seeker, you will get an amount of blocks showing what kind of block the hider is hiding as. Although I like this feature, quite a few seekers use the blocks to glitch up to you instead of doing the parkour you did to get up to the spot. Although its bannable, I have come up with a solution. Instead of using blocks to indicate what the hider is hiding as, why not use custom items? We've seen custom items before like during the Christmas hunt where you had to get custom items and bring it back to the Santa npc. We can change the blocks into custom items so that seekers can't glitch up to us