An item shop would be super useful for the Hive! Instead of walking ALL the way to the costume display center, and then walking ALL the way to the Quest Master to buy a boost, you can just open a menu using one of your hotbar items (eg: the compass, or the party coin).
---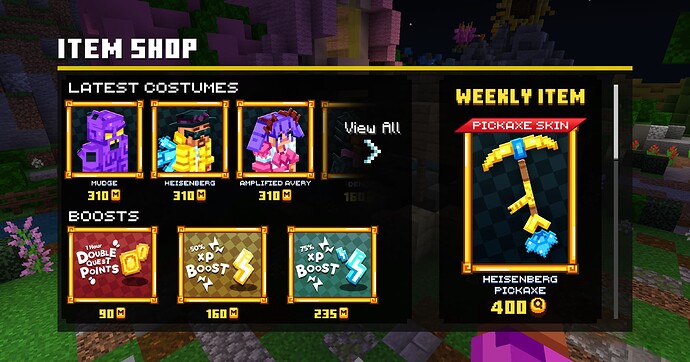 ---
Et viola! All of your costumes in one place! Super user friendly (and in my opinion, will get WAYYY more sales

)
How Pickaxe Skins Work:
They are PURELY cosmetic, and just replace the texture of the default pickaxe in ANY game.
Example: Skywars. Instead of starting the match with your boring, old iron pickaxe, you can buy a pickaxe skin and it will replace it instead. (It is still functionally an iron pickaxe)
Clicking the little box icons for the costumes will instantly take you to the store page!
I also intend for users to buy other items, like boosts, as seen below. Maybe, users can also buy other things, like Pets and Mounts! Maybe a little advertisement of the Hive's official skin packs somewhere, just for good measure!
Please vote and like if you think this is a cool idea!