this is constructive, I am being a law abiding citizen of the hive while writing this, please dont lock this thread plz
Survival games is the least played game on the hive, but I always wondered why. Survival games is one of the oldest and long lasting games on all of minecraft. Yet people would rather play death run or drop block despite the fact that the hive has the largest pvp community on minecraft bedrock. If you think you know why please comment it, but here is what I think.
My opinion: I think the reason that survival games is the least played game on the hive is because it doesn't appeal to the pvp community or the casual community which means its stuck in a limbo of sorts.
I'll start off with why sg doesn't appeal to casual players, I belive casual players dont want to play sg because sg is an extremely hard game to win. You have to be either the luckiest person alive or a godly pvper if you want to win. If you hide and avoid fighting you will have to fight to "that one level 30" who killed 7 people and opened 2 supply crates, to make a long story short, your gonna die. If you try to actually fight anyone you either die cuz ur unlucky, die cuz ur bad, die cuz he bow spammed, die cuz he had snowballs, die cuz he had cobwebs, die cuz u got third partied/cleaned. IF you win then good job, now do that like 3 more times and then die to "that one level 30" because even though you had good stuff they had 6 snowballs and 1 year of experience 1v1ing tryhards. You see how the odds are really stacked against the below average player.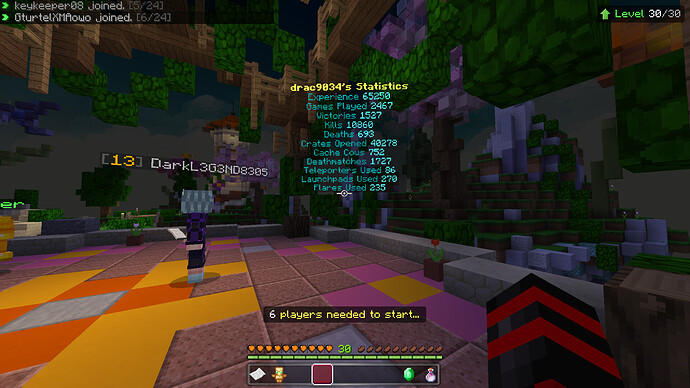 I belive sg doesn't appeal to the average tryhard because its boring, as someone with 10860+ kills and 1527+ wins, I can confidently say this game got boring a long long time ago to fight the average noob all you have to do is press left click and hold W and then throw a boombox when they inevitably start running away even though their is no chance that they will never win AND even though they are just increasing the chances we get cleaned which will lead to both of us dying anyways (Im salty, I know but go through this same thought process over 10000 times and you will be too). And then after you get through the ocean of players who will surely become good players one day but as of right now definitely aren't. you run into another level 30 player. Now, the chances this player is actually good is like 70%. the chances this player isn't just gonna bow spam you and run away for 5 years are like 30%. And then the chances that this player won't just die because they got unlucky and/or targeted are like 60%. Now, if you actually run into a good level 30 player who isn't "slightly anoyying" and you actually get to 1v1 them, the chances you get cleaned are like 50%. And while I didn't pay attention in math class I belive that this means your chances of having an actual fun 1v1 with a good player are around 0% so have fun with that i'd rather go wait for letsgame.today to have more than 0 players.