Hello everyone
I just wanna know which costume, hub title and avatar are the coolest so… Yeah… xD
Ik but I just wanna know what the community likes
costume: friendly dragon/icebloom
hubtitle: the mysterious master
avatar: meowtiny
Mine are
Coolest hub title: The Golden Legend
Coolest costume: Golden Dragon
Coolest avatar: Dragon Mark
because I love this set very very much
Coolest costume: Whippy
Coolest hub title: I am speed
Coolest avatar: N/A, I can't really pick a favorite
Coolest costume: snowgolem or gingerbread
Coolest hub title: Bruh.
Coolest Avatar: idk maybe one of the Winter themed ones
Costume : HONK
Title: H O N K
Avatar: Geese Who
Costume: Detective Sloth. Not really appealing in terms of color, but it looks nice according to me.
Title: HARDCORE PARKOUR
Avatar: Red panda.

Costume :Maga
Hub title : YEAHHHHHH/ leaf me alone
Avatar : I forgot his name but you It looks like a crown And you can have it if you get there 49 level in TW
Costume: Fire Dragon
Hub Title: I have spoken
Avatar: Idk
Costume: BlockDrop Max
Hub Title: MWAHAHA
Avatar: Grumpy Cat
Costume: Time Owl
Hub Title: Woof
Avatar: Doge
Costume : Villager 007
Hub Title : spooperhero
Avatar : BOOM !
costume: Detective platypus (reminds me of Perry)
Hub title: The platypus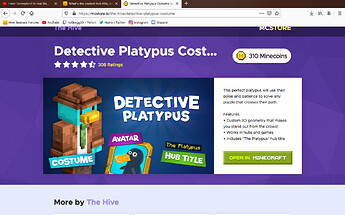 Also pretty sure you all know this but here is where you find all the costumes
https://support.playhive.com/costumes/
costume: dolphin
hub title: the silent killer
avatar: the goat
that wat i used
Costume: Glowbot
Hub Title: Bruh.
Avatar: idk
That's a lot of replays…
I use
Costume: villigar 007 or burger
Hub title: G.O.AT
Avatar: UwU
Mine are:
Costume: Flippy
Hubtitle: Stay Frosty!
Avatar: Friendly dragon/Walrus
idc about hub titles or avatars, but I firmly believe in baguette supremacy.