Affected Language:
German
Affected Service (Game name, hub, or menu):
The bridge info game text
Affected Text:
Bridge dich in diesem rasanten PvP-Spiel zum sieg,
Die Solo-Sielersuche basiert auf dem können der spieler,
Die Spieler suche in den Team_Modi basiert auf der Plattform
Suggested Text:
Bridge dich in diesem rasanten PvP-Spiel zum Sieg,
Das solo spiel basiert auf dem können der spieler,
Das Spiel findet auf einer 1 block breiten Brücke zwischen 2 platform en statt.
Explanation of Issue:
The light blue text makes no sense at all and players will not be able to understand what the game is about! The grammar in the info text is not right and the work spielersuche doesn't exist!
Also the explanation in the text is not right! Then game is not played on a platform, it's played on a 1block wide bridge.
Screenshots and/or video: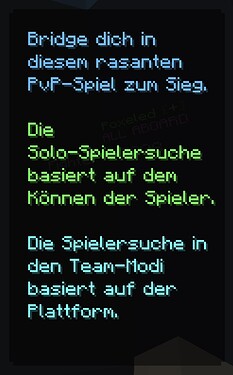 Please change that and i hope my infos helpful!
Best regards Clark pünjer
My in game name / gametag: Clarky boy24090