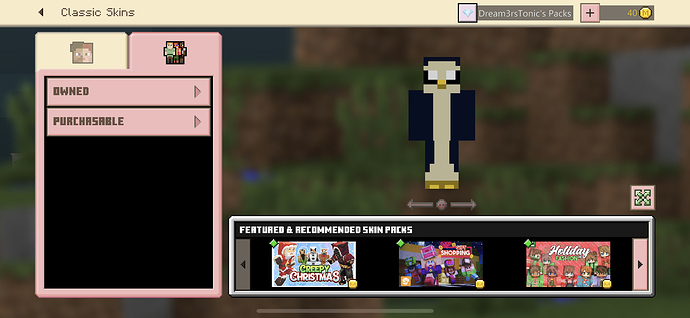 Helloo!
I really love the server but I have a few quick questions regarding my appearance on the server.
When I first joined my in game skin that I usually use (Gunther from Adventure Time) didn't appear and I was wearing the Steve with an olive green shirt skin. I wanted to appear as something other than that since my friends also wanted to play on the server with me and they had their own skins working. Mine hasn't been able to appear properly, so I bought the Snowy costume and equipped it. Thankfully that worked and I appear as Snowy, however, I still cannot wear my own Minecraft skins on the server. I even purchased the Furry Friends: Winter sedition skin pack on the server to try and add more skins for me to wear, but those aren't popping up, and if I try to equip them as my normal Minecraft skin, it still won't pop up.
How do I go about fixing this issue? I just wanna be able to use my skins that I've bought from the Market place and in skin packs!
Please help!
Thank you!