Gonna announce it here so I don't triple post, but just submitted my addon to mcpedl!
it's a bedrock edition addon website, where you can download maps, texture packs, skins, etc
he apparently is publishing his addon to that website
ooh nice! Well good luck or congratz Blaze!
Will this pain will ever end my friends lmao
@HudsonDog59 does not know what a slushi is :cursedflushed: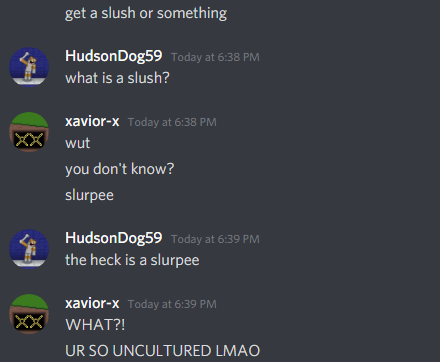 f HudsonDog
@HudsonDog59 basically its a frozen drink thats got a consistency similar to snow,uts really good
I live right next to a seven eleven ik what a slurpee and slushie is
So, a slushie is the greatest thing on earth. Its like small bits of ice… sometimes with flavoring… At least how I make it.
I know they used ice, but don't they use syrup as well?
that's what I was told, sorry if I ruined your day lol
Nah it's fine. Sometimes my family would, but I guess not for others…
interesting…
This sounds supper unhealthy lol
I mean, when it's the best thing in the world, it kinda is lol
yes… but… it was a summer treat…
nvm…
I've been good
You
I've been inactive sheesh I have 54 new and 59 unread
Good too.
Been inactive too. yeah…