Double post but, it's the avatar that i posted 7 days ago!
btw when will Asia region be back to the hive, also what happened to the Asia region, like why is it unavailable
Maybe if you read you'll know :D
Asia region is back online. There was an issue with our server provider which has been resolved.
Currently, the Oceania region has also been enabled on a temporary basis just so the Asia servers are completely stable.
Expecting things to go back to normal really soon

Oceania region had very low ping


idc if this is old or not, but this is a very good fix for deathrun: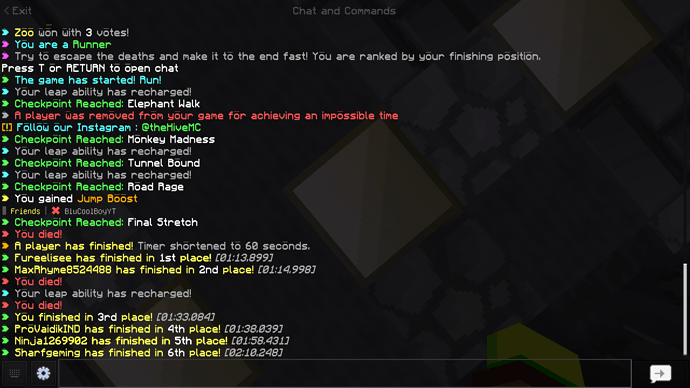 'A player was removed from your game for achieving an impossible time'
thank you hive.
I dont really encounter the message whenever I play deathrun, but idk is it a bug or not, or it could be intentional
Of course it is intentional, its a feature?
it happened the first time to me rn lol
good feature thank you hive
In replay it now shows when people die but not to a player ex. The void
That's going to be so useful when people camp in a hole and you want to see what they were doing
Let's goooo
I'm very happy
I will use it when I get replay from someone lol