Well i cant get it cause they aint shipping so
I also cant get cause it is expensive

It is a bit pricey, but it looks rather large and high quality. I also get the first in game pet. We'll see if it is worth the $35.
I'm looking forward to getting my code and having Cubee as a pet in-game on or sometime after January 15th.

I'm guessing they will implement the pet system a few days before they give out codes for the Cubee pet.
I'd recommend trying again now and if that doesn't work, contacting Makeship Support about that issue (with screenshots and your country) should help you.
I had a similar issue but support helped me out and I managed to get the plushie
That's kind of what I bought it for, of course the plushie is cool, but a pet (the first of its kind!), that's a one in a lifetime chance tbh.
I'm also glad to be supporting the server

guys remember hive didnt set the price
yeah i know, i still think $25 + almost $10 shipping is a little bit pricy. it does look like it has good quality though
Nope i already did that they replied and said they can't mport to india
Yay!
I thank it's safe to assume this has been a success, haha.
@IhatrMC Totally ur decision, but you could call this 'Hive Merch Discussion' so that there is ONE topic, instead of loads when new merch comes out? Just an idea lol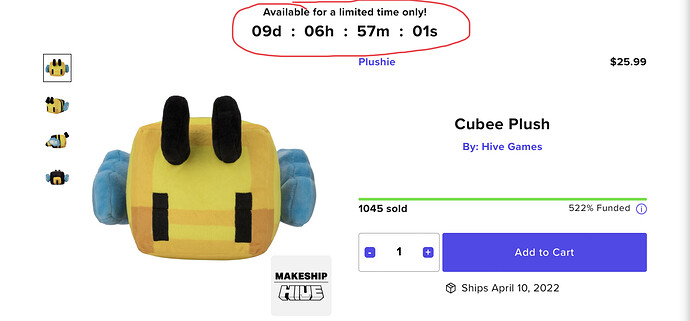 Quick reminder to everyone who still wants to buy CuBee that they have 10 days left!
Also CuBee flying idk
Just ordered the plushie
9 dollars shipping though

Yeah the shipping is quite a lot. For me Cubee costs $40 in total with tax + shipping included.
It appears the pet isn't gonna be as rare as previously thought. 1000+ orders already
I bet the replay contest cosmetics are more exclusive
As more pets are released and the next 2 - 3 years go by you will not see Cubee nearly as often as you'll probably see it on the first day of its release.
Even though it isn't going to be as rare as people may have expected it to be, having the very first (and most expensive) Hive pet will be nice. Plus it will be iconic like the OG Bee costume.